Sept 2011, Software Freedom Day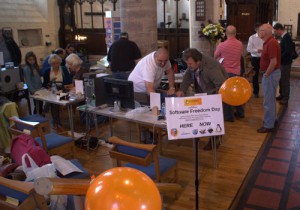 SFD 2011 at Allsaints, Hereford
Another busy event at Allsaints is over, SFD 2011 went very well  with the usual interesting mix of visitors. We are now old hands at setting up and even though our keen first visitors arrived before the official 10am start time we had everything in hand.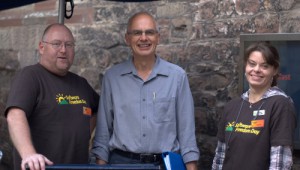 Bob Higgie with HLUG members Heather & Tony HLUG's Open Source Schools Project was launched at the  event and our speaker Bob Higgie spoke about the difficulties faced by primary and secondary schools whilst trying to engage students in ICT,  falling numbers on ICT courses in higher education and the consequences for the IT industry in the UK. Using an android phone to demonstrate the ease with which you can build simple apps using open source software he spoke about the need for a change in approach to the teaching of ICT.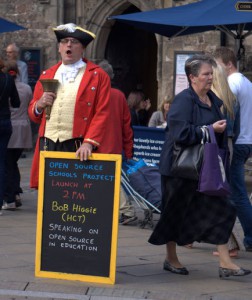 SFD CrierWe used a whole range of media to advertise the event including social networking, podcast, local newspapers, newsletters and lots of posters and asked visitors to let us know how they had heard about SFD and yes we did get visitors in because of our very own SFD Town Crier.
Tuxedu the distro HLUG has created for schools was a big hit with teachers and children
  and generated lots of interest during the day – it's going to be the focus of our activities for the next couple of months – we hope to have children across Herefordshire using and sharing Open Source Software in 2012.
One of the great things about  SFD is that you know you are part of a worldwide day of events and it was great to hear about what's going on across the globe from Uganda to Nepal.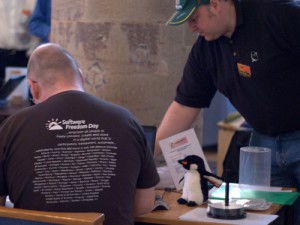 Busy at SFDThanks go to Allsaints for providing the space once again, all the HLUG volunteers including those who could not make it on the day but helped us to organise the event.
And not forgetting special thanks to our youngest volunteer Polly who helped us set up the event, kept restacking the display of Open Source discs and  was an able Tuxedu demonstrator as well as finding  happy homes for our SFD balloons.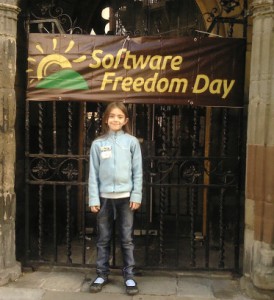 Polly with SFD Banner